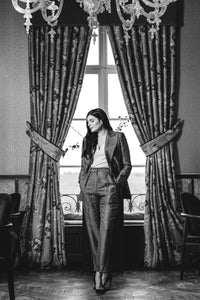 About
"Mes inspirations sont une combinaison des goûts et des styles qui sont transformé dans ma passion."
Eager to share her passion for iconic French emblems and her creativity for beautiful personalities, Atelier Savoir gently came to life in the castle of Bokrijk. The result of a dream, a love affair with natural gemstones, the ambiance of a unique workplace, and the desire to make everyone experience it.

After Sarah mastered the craft of "jewelry design-goldsmith," she carefully built an inspiring identity. Using high-quality gemstones incorporated into 18-karat gold, today she conjures custom-made jewelry and captures attention with her precision work. All with one goal in mind: evoking timeless Parisian elegance, where beauty is visible in the smallest detail.

Each design is a tribute to the French lifestyle and Belgian craftsmanship. Sarah combines clever contrasts, embraces distinct lines, and transforms precious materials into creations of timeless luxury. She draws inspiration from the DNA of the French Riviera, the Mediterranean Sea, the sprawling Champagne region, and fragrant peonies. Allowing the wearer to catch a glimpse of the French landscape and thereby enhance their own personality.